The Women Who Rock (WWR) organization aspires to become an integral part of the industry's efforts to attract women to mining. Our long-term strategy is to create programs that connect various stakeholders in the industry, with the goal of supporting and empowering women.
Founded by Elena Mayer, MBA, in 2014, the professional and social network has grown to more than 600 active followers, male and female, from academia, mining companies, non-profit organizations, legal firms and supply and service industries.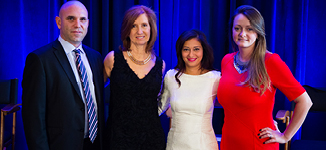 Vision
Women Who Rock strives to be a key stakeholder and spearhead innovative changes that improve the image of our industry, ignite curiosity about it, and connect aspiring women to leaders in the sector.
Mission
Women Who Rock is committed to empowering women and to improving gender diversity in the mining industry. It aspires to be an integral part of positive change and leadership.
Strategy
1. Connect
Create mentorship opportunities by connecting aspiring women to leaders in our industry through programs such as the 'Auction for Action'. The Auction offers a unique platform for women to meet and develop mentoring relationships with professionals across the mining industry.
2. Communicate
Take an active role in generating positive stories about the sector in an effort to improve its image, ignite curiosity about career opportunities, and attract more women into its ranks.
3. Collaborate
Become a focal point between all stakeholders in empowering women and pursuing gender diversity with and outside the mining industry, collaborating on activities, addressing common challenges, and sharing success stories.