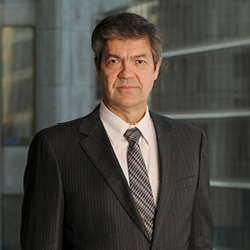 CEO
Dundee Precious Metals
Rick Howes is a Professional Engineer and holds a Bachelor of Science in Mining Engineering from Queen's University in Kingston, Ontario. He has over 35 years' experience in the mining industry in Canada, Europe, Asia and Africa in various capacities including Engineering and Design, Operations and Maintenance supervision, Site and Plant management, Business Unit Management and Executive Global Management.
Rick joined DPM in early 2009 as General Manager and Executive Director of Chelopech Mining EAD. Since then he has led the Chelopech operations and project teams to deliver consistently strong results while embarking on an ambitious expansion program.
Rick served as the Chief Operating Officer and Executive Vice President at Dundee Precious Metals from November 9, 2010 to March 31, 2013, and has been the Chief Executive Officer and President at Dundee Precious Metals Inc. since April 1, 2013.
Throughout his career, Rick Howes has been closely associated with the practices that make for world-class mining operations including Inco's North mine which won the 2006 Ryan Award as the safest mine in Canada. A key theme of Rick's career is pushing to innovate in the mining business. He was recognized with the 2016 Outstanding Innovator Award, presented by the International Mining Technology Hall of Fame for his work with DPM at their Chelopech mine. He introduced an operational performance project called Taking the Lid Off that combined communication and location technologies, providing real-time production management and tracking to better monitor production and control. Rick's visionary and practical implementation fundamentally changed their mining operational management.