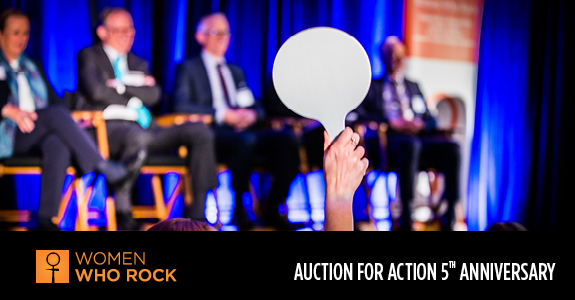 Auction for Action 5th Anniversary
Mentorship has been identified as one of the most powerful ways to inspire the next generation of mining professionals. Since 2014, the Auction for Action has offered unparalleled opportunities for mentors and mentees to meet and develop professional relationships, which contribute to and strengthen the number of women in leadership positions in our industry. Women mentees can bid on a one-hour mentorship meeting with influential female and male leaders in the mining industry.
MENTORS

MENTORS' TESTIMONIALS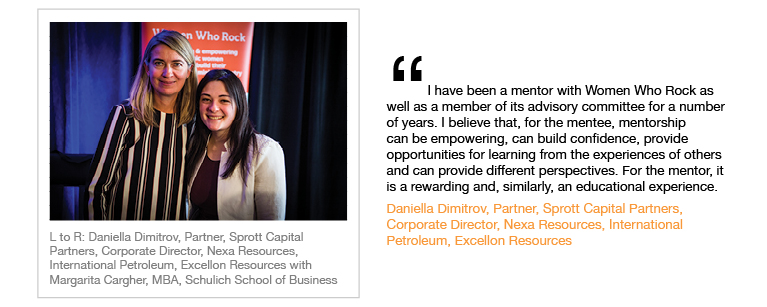 THANK YOU TO OUR MENTORS
We would like to thank each and every mentor for your starring role in this unconventional event. Thank you for your sense of humour and willingness to be auctioned off and most importantly your commitment to mentor the next generation of mining leaders.
Dr. C.D. ('Lyn) Anglin Chief Scientific Officer; Imperial Metals | Ian Ball President & CEO; Abitibi Royalties | Carol Banducci EVP & CFO; IAMGOLD | Egizio Bianchini Managing Director; BMO Capital Markets | John Bianchini CEO & President; Hatch | Gary Brown CFO; Wheaton Precious Metals | David Bryson CFO; Hudbay Minerals | Robert Buchan Chairman; Allied Nevada Gold | Geoff Burns CEO; Pan American Silver | Alan Coutts President & CEO; Noront Resources | Lisa Davis CEO; PearTree Securities | Stephen de Jong Chairman; Integra Resources | Daniella Dimitrov Partner, Sprott Capital Partners, Corporate Director, Nexa Resources, International Petroleum, Excellon Resources | Rob Doyle CFO; Pan American Silver | Catharine Farrow CEO; TMAC Resources | Brady Fletcher Managing Director; TSX Venture | Ginny Flood Vice President, Canada; Rio Tinto | Joanne C. Freeze President & CEO; Candente Copper | David Garofalo President & CEO; Goldcorp | Rick Howes President & CEO; Dundee Precious Metals | Marie Inkster CFO; Lundin Mining | Maureen Jensen Chair & CEO; Ontario Securities Commission | Kendra Johnston President; Independence Gold | Wendy Kaufman CFO; Primero Mining | Pierre Lassonde Chairman; Franco-Nevada | Candace MacGibbon CEO; INV Metals | Jennifer Maki CEO; Vale Canada | John McCluskey President & CEO; Alamos Gold | Rob McEwen Chairman & Chief Owner; McEwen Mining | Emily Moore Managing Director; Innovations, Hatch | Steve Mullowney Partner; PwC Canada | Dave Pathe President & CEO; Sherritt International | Ian Pearce Director; New Gold | Scott Perry President & CEO; Centerra Gold | Matthew Quinlan CFO; Dominion Diamond Corporation | Aaron Regent Founder & Managing Partner; Magris Resources | Paul Rollinson President & CEO; Kinross Gold | Sean Roosen CEO; Osisko Gold Royalties | Randy Smallwood President & CEO; Wheaton Precious Metals | Michael Steinmann President & CEO; Pan American Silver | Edie Thome President & CEO; AME | John Vettese Executive Chairman; Cassels Brock | Jose Vizquerra Benavides EVP, Strategic Development; Osisko Mining | Steve Wood COO; Sherritt International
---
MENTEES
The "I Wanna Be Mentored" Competition
We created the "I Wanna Be Mentored" competition to remove entry barriers to mining and create opportunities for students to gain exposure to the industry. A female student is championed by an organization to bid on and be mentored by a mining leader of her choice. The financial contribution funds one-hour of personal mentorship time with the respective executive.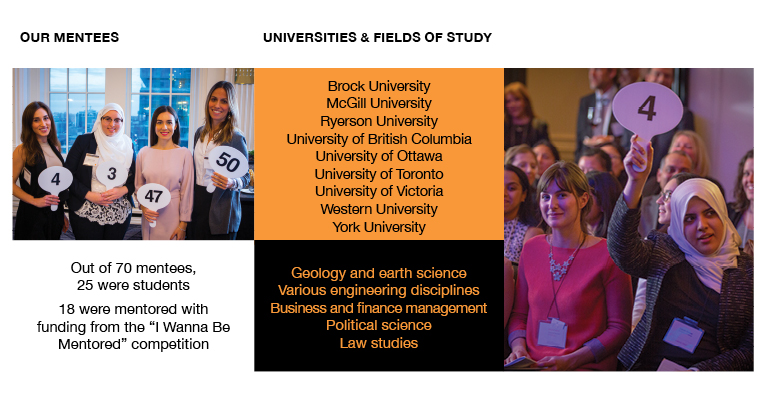 MENTEES' TESTIMONIALS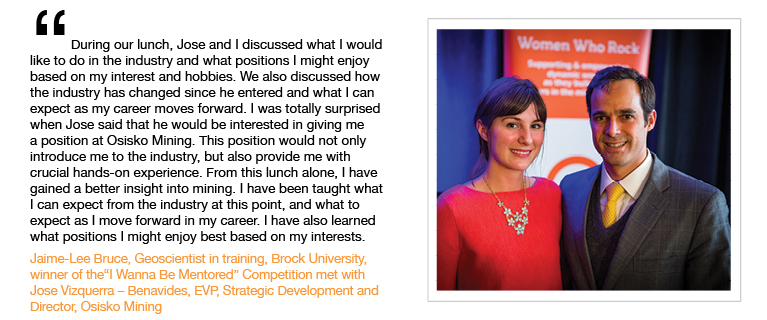 ---
AUCTIONEERS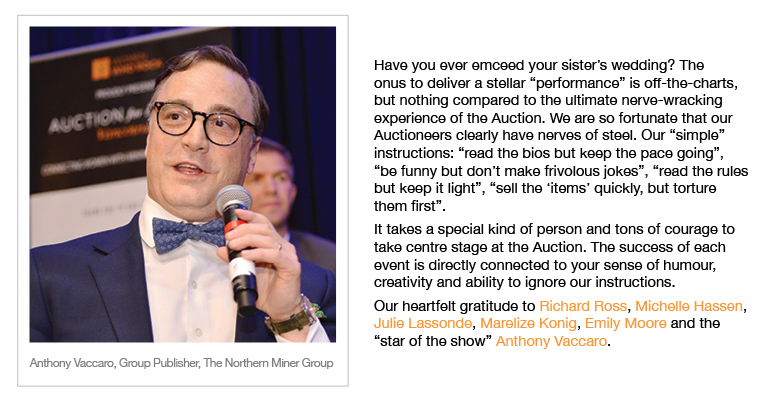 ---
CHARITIES OF CHOICE
We are proud to partner with and support these deserving charities and are thrilled that our contribution makes a difference.