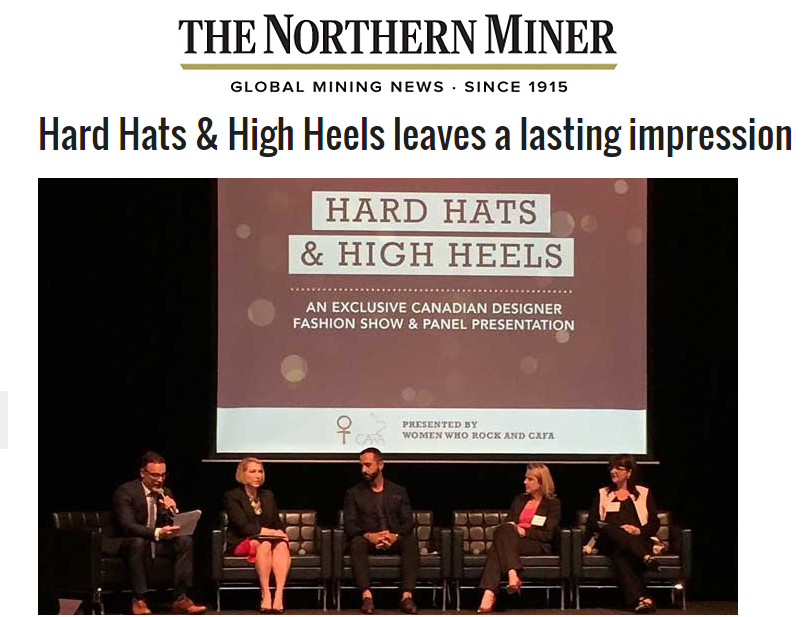 The Northern Miner (Hard Hats & High Heels)
Article Highlights
"The idea for Hard Hats & High Heels arose when Mayer met CAFA's founding director Brittney Kuczynski at the Prospectors & Developers Association of Canada (PDAC) conference in March. The women, both working in mining, with Mayer as a senior client relationship manager for PwC Canada's mining group, and Kuczynski, on Paradigm Capital's institutional equity sales team, combined their passions for mining and fashion to create a dynamic platform that allowed women in mining to learn about opportunities in Canadian fashion and Canadian designers to promote their work.
"We are all about business development and getting Canadian labels and growing that awareness among a very coveted group of young professionals and executive level women," Kuczynski says of CAFA's mandate. She notes these women are the inspiration behind many of the designers' collections. "They are women that are of great substance, are fearless and do have a lot of confidence. And they need to dress so their wardrobe is evocative of that."
PDAC executive director Andrew Cheatle, one of the initiative's many supporters, said he loved the idea when he first heard it. "It's important to celebrate our diversities and to show that. And we should have fun as well." The representation of women in the industry is slowly improving, Cheatle says, recalling when he was the chief geologist at Goldcorp's Musselwhite mine in Ontario that at one point his team had an even number of men and women. He added that it's crucial leaders in the industry "break down barriers and make that change and diversity happen."
For the full article, please visit The Northern Miner.