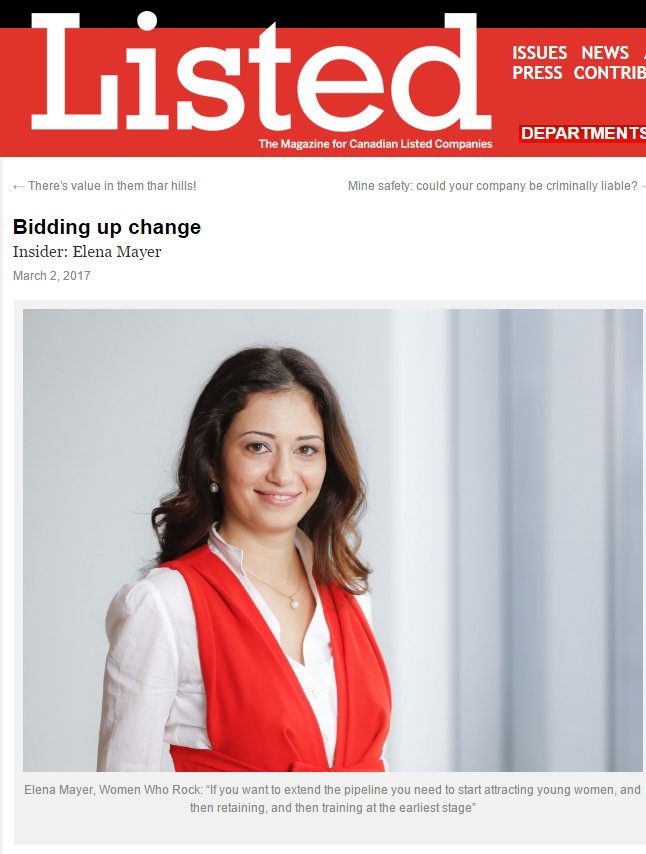 Listed Magazine Feature Article, 2017
Elena Mayer, President and CEO of Women Who Rock, was interviewed by Listed magazine, on the topic of diversity and inclusion within the Canadian mining industry, for an article titled "Bidding Up Change".
Interview excerpts:
Listed How did Women Who Rock come about?
Elena Mayer I joined the industry in 2010, as a lawyer. Then I decided to get an MBA mining degree at the Schulich School of Business. One of the events that I went to in 2014 was an all-women panel talking about various roles available for women in mining. And I just had the idea of creating an organization for younger women. I'd found there was a disconnect between women who had been in mining for many years and younger women that wanted to create a network where they can discuss issues pertaining more to women that just entered the industry and, most importantly, women that didn't have any background in mining before.
So it started with a couple of casual dinners, then it became 50 on a list, then it became 100, and then it became so big that I realized we actually needed to create an organization to host all these women. Four months later I created Women Who Rock and we had our inauguration event in May of 2014.
Listed What specific challenges does mining have with regard to diversity and attracting new talent?
Elena Mayer There was a study done in 2016 that showed there are four main reasons why the younger generation doesn't join the mining industry. First, there's a bad perception of the industry at large, and as you know, millennials right now want to be a part of something bigger, better and they don't want just salary. Then there is lack of awareness of career opportunities in mining, so when you think of mining you think of geology and engineering. But there's banking, accounting, law, marketing, there are a lot of professions that mining needs and usually salaries are much higher, but students don't know about it. Then, particularly for women, is that there are not enough women in leadership roles that provide role models for women to follow. And lastly, is lack of mentors.
Read more on Listed magazine.