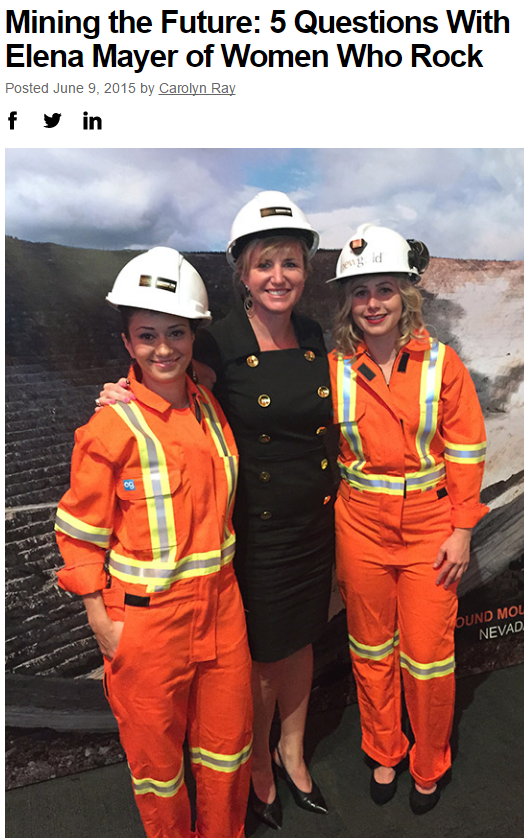 "Cautious Optimism" Op-Ed by Elena Mayer
The original article was published in an Argentina based publication.
Visit the "Women Who Rock" Facebook app to see the "Focus on Argentina" publication. Read it online via flip book, or download it. We welcome all comments and feedback about the piece.
"Cautious Optimism" (English Version)
By Elena Mayer, Senior Manager, Client Relationships, Mining, PwC Canada
With two recent events focused on Argentina, the Canadian mining community is once again turning its attention to the country.
On September 23, at the PwC Canada offices in Toronto, the Northern Miner unveiled its "Focus on Argentina" magazine –the result of February trip to Buenos Aires by Elena Mayer and Trish Saywell, who interviewed the local mining experts covering topics such as macro economy, Macri's pro-business agenda and how it will affect the mining industry. General Council of Argentina, Maria Lonardi Duardo, opened the event by reassuring that Macri's pro-business agenda is to stay long term and benefit all industries mining included. The audience was somewhat sceptic. Answering difficult questions, Buenos Aires based panelists, Ignacio Celorrio and Ricardo Martinez focused on the quality of the Argentine Mining Code, the country's geological potential and reconciliation of the provinces when it comes to the local mining policies. The Toronto based Argentines, Mariano Ortego and Pablo Beard, offered their perspective-looking from outside to their country, they were of opinion that despite long way of becoming an international player, President Macri is taking the right steps towards it. Canadian mining CEOs, Rob McEwen and Richard Spencer shared their cautious optimism that soon they will be rewarded for putting their faith in the country.
At the Mines & Money Americas, the dialogue at "Sustainable Confidence in Argentina and Mining" panel continued. Joined by Jose Borgondy and Diego Temperlye, Ricardo Martinez once again boldly offered his opinion on Valadero and how it affects the relationship with communities and the reputation of mining at large.
The theme that came from both events is that the biggest challenge for Argentina is to inspire continuous, long term trust. The opinion of the skeptics was eloquently voiced by Charles Koppel whom I had a pleasure of interviewing during PDAC 2016. "Until one sees that fundamental change is filtering through to the grassroots — which, with the best will in the world will take years — until that happens, are you really going to go and put new money into a country that has gone through the seesaw of politics; which has been great one day and then five years later a disaster, and then another five years later great again?" he says. "You need that continuity and Argentina hasn't had it. They haven't had meaningful long-term economic and political stability for decades and decades."
The fast pace of Macri's market-friendly reforms is grabbing positive attention and Argentina is on people's mind. The Canadian leaders with existing projects in the country are cautiously optimistic, while the global investment community is evaluating whether once again they should put their trust and money in Argentina. Stay tuned for the Argentine panel during Mines & Money, London, November 27-29, 2016 where once I again I will be inviting the bright and the best to give their opinion of future of the Argentine mining.