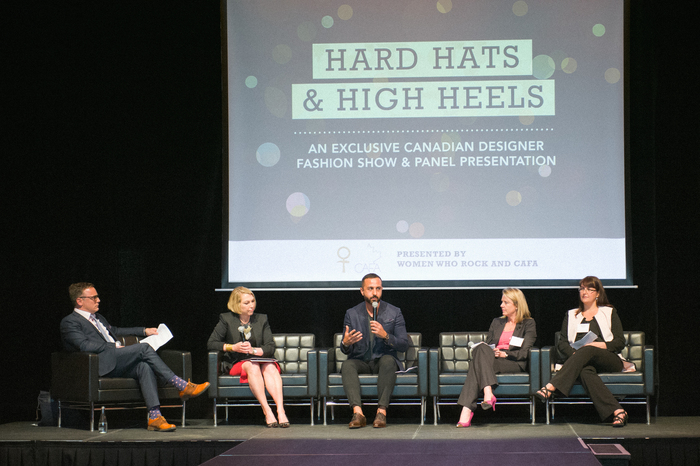 Event Timeline
Date: June 8, 2015
Time: 17:30 to 21:00
Timezone: ET
Place: Art Gallery of Ontario (AGO), Toronto, Ontario
Women Who Rock presented a unique fashion and educational event in collaboration with CAFA (The Canadian Arts & Fashion Awards). The evening showcased a dynamic panel presentation with fashion and industry authorities and featured a collection of Canadian designed working attire modeled by women working in mining.
The event attracted 300 attendees and highlighted new views and new perspectives for women working in the field and for aspiring business graduates who face unique challenges as they transition to the office and the boardroom. It also succeeded in showing women in leadership positions how to express their creativity, personality and to adopt an appropriate fashion sense.
TESTIMONIALS
"Strong women mean a strong Ontario. As Minister Responsible for Women's Issues, I am dedicated to ensuring that all women and girls in Ontario have the opportunity and the ability to thrive and reach their full potential. Tonight's event is a wonderful way to promote gender diversity and women's leadership in the mining industry. Thank you to Women Who Rock for your ongoing efforts to empower and support women who are involved in the Canadian mining industry."
The Honourable Tracy MacCharles, Minister Responsible for Women's Issues, the Government of Ontario
"I attended the event to support my friend Alicia, the founder of Covergalls. Being from a different industry, it opened my eyes up to the world of women in mining. Thanks for putting on such a great event."
Paula Albiani, Stratum Advisory Group Inc.
Event Photo Gallery
[ngg_images source="galleries" container_ids="2″ display_type="photocrati-nextgen_basic_imagebrowser" ajax_pagination="1″ template="/home/content/a2pnexwpnas04_data02/05/3333005/html/wp-content/plugins/nextgen-gallery/products/photocrati_nextgen/modules/ngglegacy/view/imagebrowser-caption.php" order_by="imagedate" order_direction="DESC" returns="included" maximum_entity_count="500″]
Event Video Highlights